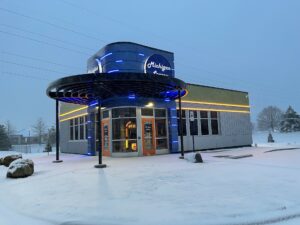 Media Contact: Barbara Fornasiero; EAFocus Communications; barbara@eafocus.com; 248.260.8466
Wyandotte, Mich. — February 28, 2022 — Michigan Legacy Credit Union (MLCU), with five physical locations in Wyandotte, Warren, Flat Rock, Pontiac, and Highland and 24-7 online accessibility, opened its newly constructed Flat Rock branch, located at 22895 Gibraltar Road, on February 28. Carma Peters, President and CEO of Michigan Legacy Credit Union, announced the opening and the impetus behind their new branching strategy.
"In tracking the changes of member behavior, we have created smaller retail branches with new technology, including video teller services, to make the credit union successful for years to come," Peters said. "As our member/owners use various digital devices to conduct business, Michigan Legacy is pleased to present our technology-driven options in a flexible environment that also offers traditional service through an ATM and drive-thru."
Administrative services previously located in each branch have been centralized to MLCU locations in Warren and Wyandotte, which are larger buildings and designed for additional administration purposes.
"These important advances will also allow the credit union to downsize by 28,000 square feet, netting significant operational cost savings," Peters said.  "This is our third new prototype branch, which is a fun and funky design modeled after a 50's-style diner but equipped with secure online technology and a layout that allows for social distancing to keep our members and staff safe."
The new branch is located directly west of the current Flat Rock branch, which is for sale. With vibrant colors and signage, the building is hard to miss driving down Gibraltar Road. It was designed and constructed by Anchorville, Michigan-based Thompson-Phelan Group, which also designed Michigan Legacy's other two prototype branches in Warren and Wyandotte, with Wyandotte now serving as MLCU's headquarters.
The Flat Rock branch will be open Monday, Tuesday, Thursday and Friday from 9 a.m. – 5p.m., Wednesdays from 10:30 a.m. – 5 p.m., and on Saturdays (drive-thru only) from 9 a.m. – 1p.m.
About Michigan Legacy Credit Union
Michigan Legacy Credit Union (MLCU) is a member-owned, not-for-profit financial cooperative serving members who live, work, worship, attend school, or own a business in the state of Michigan. Michigan Legacy Credit Union is committed to providing quality financial services at a competitive price, delivered professionally and efficiently while keeping member/owners and their needs first. For additional information on MLCU, visit: www.michiganlegacycu.org.